We make comfortable departures
and safety for the smile of
our customers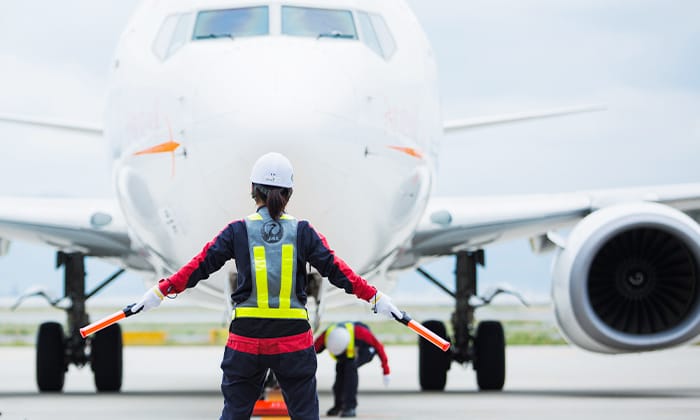 01
The moment our airplane rests
its wings, our work begins
On-board work
Hospitality that can be carried in baggage and cargo according to the rule of scheduled flight of airplane
Airplane carry not only the baggage of passengers who enjoy traveling, but also cargo and mail.The loading work is responsible for loading, transporting, and carrying in these baggage and cargo.Our mission is to accurately load cargo and baggage loaded in containers and pallets within a limited time.We have all the know-how on how to install special transport such as artworks and animals, and we will pay close attention to ensure that they are delivered to the destination without damage.Although we do not interact with customers, we are committed to the best teamwork with a strong mission and responsibility such as "delivering important baggage safely".In addition, a passenger boarding bridge (PBB) that allows passengers to get on and off, and a trump (passenger step) are installed.When loading cargo, special vehicles and special equipment are used to improve operating efficiency.We have realized the on-time operation of airplane by fusing reliable maneuvering technology to control it and manpower with both experience and knowledge.It is a field that requires dynamic hospitality and advanced technology while being dynamic.
Unloading baggage and cargo
Watchman
(airplane wing tip monitoring)
Boarding bridge operation
With push back (sender)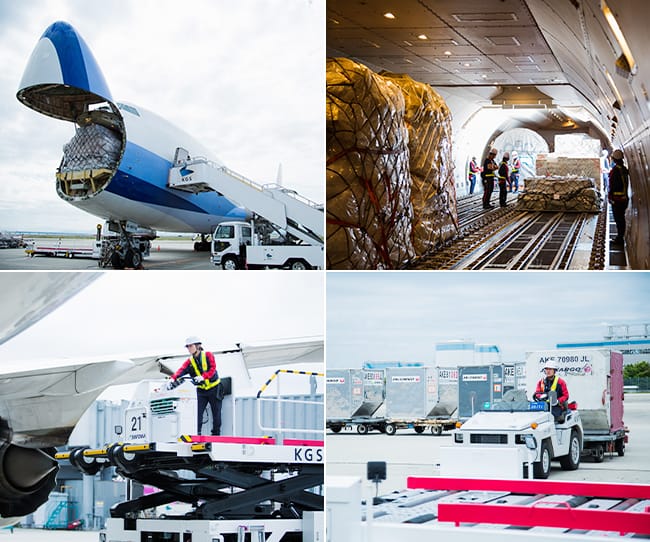 Guidance work
Guide your airplane correctly and safely in a limited time from landing to departure
Marshalling guides the airplane so that the landed airplane can park at a fixed position.It acts as a navigation on the ground for the airplane.My job is to stop at the position decided for each model while making contact with the captain using a dedicated paddle.In addition, the brake man plays an active part in operating the airplane brakes in the cockpit when the airplane is towing.Then, pushing and pulling a huge airplane is towing and pushback.It is a job to safely and reliably move an airplane that has many blind spots because it is not able to retreat and the body is huge.Staff with specialized knowledge such as pilot signals and airplane safety confirmations are responsible for this task.The existence of special vehicles is indispensable for freely towing an airplane with a weight of 300 tons or more.At the Ramp service site, vehicles that cannot be seen on general roads, such as towing cars, come and go.In addition to vehicle driving qualification, professional knowledge and experience as a ground support professional are required.
Marshalling (airplane guidance)
Towing (towing an airplane)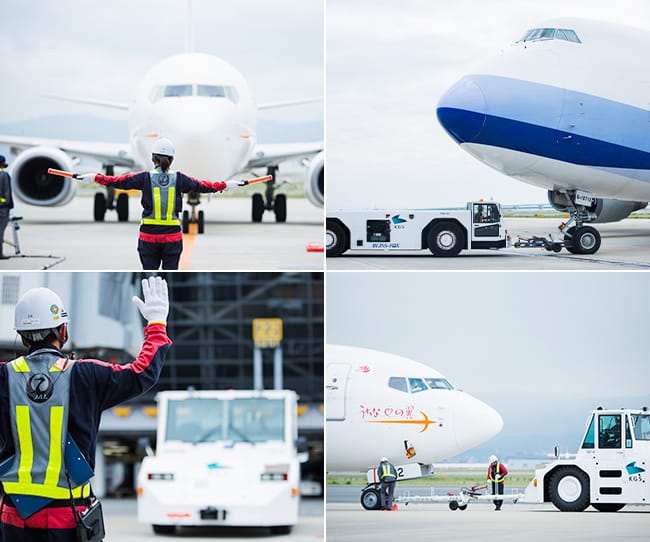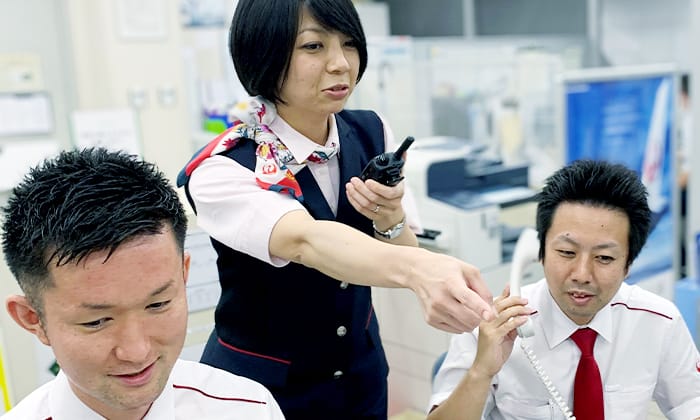 02
passenger
service
Passenger service
Technology and quality control,
for your safety and comfort
Passenger/baggage business
Reliably deliver baggage packed with daily necessities and business tools to the site
For passengers boarding an airplane, daily essentials and baggage packed with business tools are essential items.Missed or misplaced baggage at your destination ruins your entire schedule.We are in charge of loading and unloading management of this important baggage.Supports sorting, packing and delivery of checked baggage according to the flight of the boarding airplane.Not only accurate sorting, but also careful handling is required to prevent damage and dirt.Attentive hospitality is provided so that arriving passengers can pick up their baggage at the airport and start their journey with a radiant feeling.Delivering baggage safely and securely also enhances the quality and brand of airlines.
Passenger baggage sorting
Managing transit baggage
Passenger assistance business (check-in counter, wheelchair service)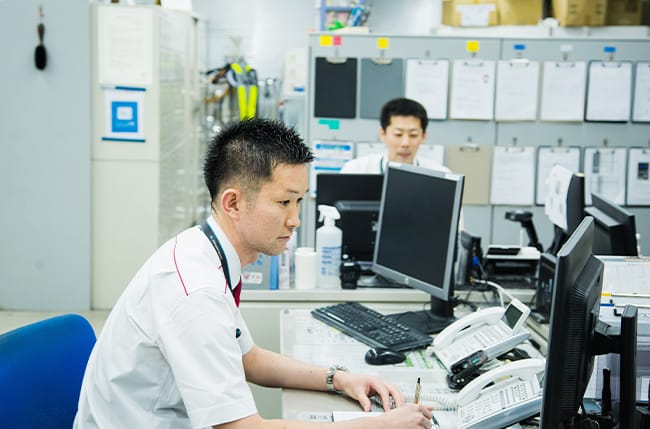 BHS management work
Realizes safe and steady management by making full use of air transportation technology specialized in baggage transportation
In order to handle your baggage and cargo safely and speedily, it is essential to have a mechanical system such as a carrier.A baggage handling system (BHS) has been introduced at Kansai International Airport, which sorts and transports a huge amount of baggage safely, reliably and speedily.BHS management work is responsible for the operation, management and maintenance of this advanced system.BHS, which is a composite of conveyors, sorters, and sorting equipment, also requires thorough management of the operating status.Staff members watch the movements of baggage at a centralized monitoring center day and night from a strict perspective.In addition, a thorough support system is realized by taking charge of maintenance and maintenance to prevent system malfunctions.
Baggage handling system (BHS)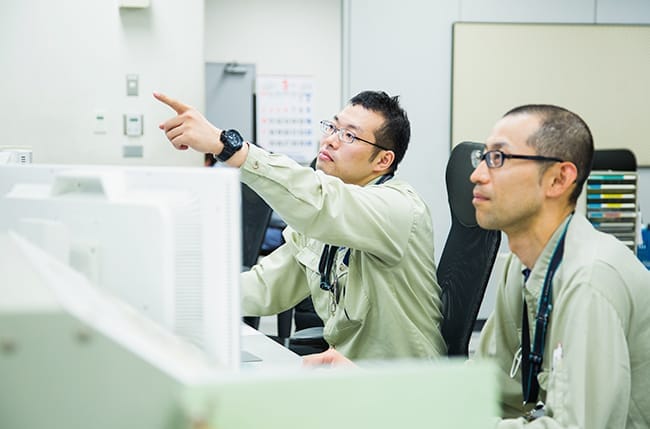 Load control business
Supporting safe operation of airplane by managing the number of passengers, the weight of fuel, baggage, and cargo and the position of the center of gravity
Passenger planes and cargo planes that carry large amounts of baggage and cargo.Responsible for the safe operation of these airplane.The most important work is weight and balance adjustment, which is called weight and balance.We consider the weight of fuel, cargo, and baggage to be loaded on the airplane, the number of passengers, and other factors to determine the loading position and loading amount and adjust the airplane so that it can operate while maintaining an optimal balance.Since the weight and adjustment method differ depending on the model, it is a job that requires adjustment skills tailored to each machine.It is also necessary to have an understanding of complicated formulas and experience values, and it is also important to make judgments and flexible responses to changes in takeoff and landing times.Even though it is office work, it is another "site" on the ground.
Airplane weight/center of gravity position adjustment work (load control)
Report to the captain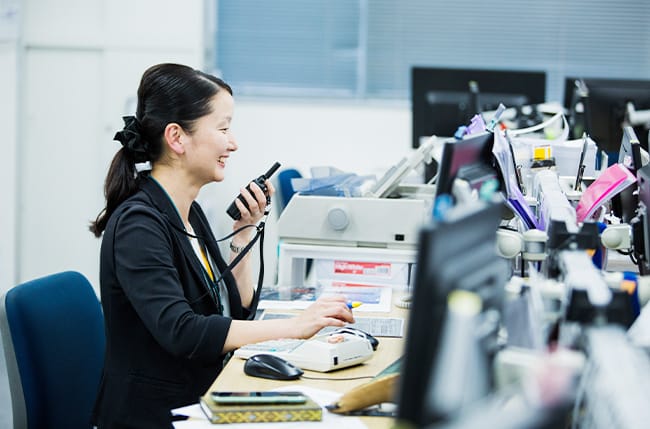 Baggage wrapping business
Protect your baggage from damage and stains.
Revolutionary service that promises a safe trip
"YOUR WRAP" is a wrapping service that protects your baggage (checked baggage) from damage, stains, loss, and water damage.By packing your luggage with a special film, we support your comfortable and safe journey.It features a variety of services that meet your needs, such as putting together multiple pieces of baggage for passengers who have transit connections, protecting golf bags, musical instruments, and bicycles that are not in a box from being scratched. is.We are the first to launch this service, which is major at overseas airports, at domestic airports.With two counters on the 4th floor of the Kansai International Airport Terminal 1 Building, it has been well received by many customers not only in Japan but also in Europe, America and Asia.
Baggage wrapping service
Sale of packing materials, cushioning materials, binding bands, etc.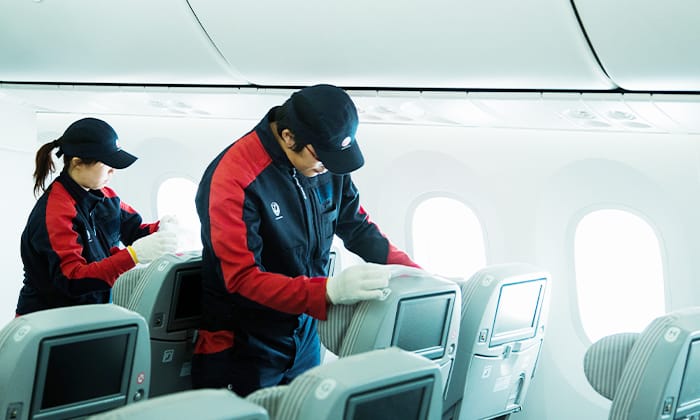 03
airplane
service
Airplane service
I want to meet your smile.
Such thoughts lead to high qu
ality work
In-flight cleaning business
Produce the special feeling and comfort of
"air travel"
The moment that all passengers disembark from the arriving airplane is the start of the cabin cleaning business.Since the situation inside the airplane varies depending on the flight time and the number of passengers, we will instantly adjust the personnel arrangement, clean the seats with hundreds of seats and the area used by the customer, and set the in-flight magazine and blanket at the same time. ..Due to the diversification of services, monitors are installed in all seats, and the work content is complicated, so it is a professional work to produce a unified space within a fixed time.
We are always striving to provide a comfortable service from the customer's point of view in order to satisfy air travel.Everything is for your smile.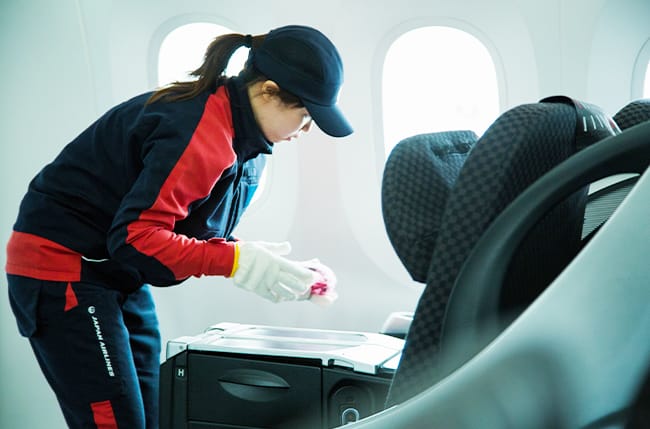 In-flight supplies business
Providing in-flight equipment essen
tial for a comfortable trip.
In the in-flight article business, we are in charge of preparatory work before in-flight articles such as in-flight magazines, headphones, and blankets set on the seats on the inflight are transported to the airplane.Since the in-flight products to be used differ depending on the route, service class, handling of seasonal products, etc., and there are hundreds of types, careful sorting and inventory management are important tasks.
In the warehouse where sorting work is carried out, there are a lot of cargo teners loaded with in-flight products, and an automatic carrier called a key cart plays an important role in the transportation.In addition, aggressive efforts are being made to reduce labor and labor, such as by using reach forks to effectively use the storage space.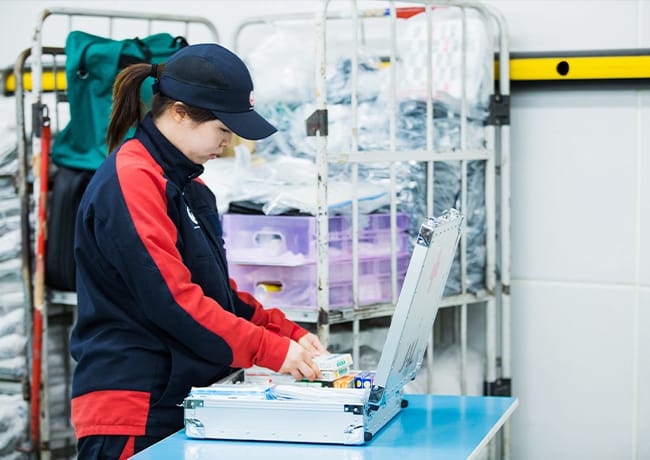 Customs duties
From domestic to overseas, from overseas to Japan.
Leading the flow of things by making full use of specialized skills
The airport is one of the logistics bases where everything from domestic and overseas gathers and is delivered to various parts of the world.Customs clearance is in charge of all procedures necessary for import and export of air cargo.Coordinates transportation from all over the country to overseas countries and from overseas to all over Japan.Detailed classification is required depending on the type of goods handled, and there are complicated laws and agreements such as declaration procedures, tariffs, and consumption taxes.This specialist is a department in which a nationally certified customs officer is active.Operations that are indispensable for correct and efficient import/export, and require specialized knowledge to control the flow of goods.It plays a role as an important gate that connects the world and Japan.